Florist and Boutique Gift Store in Lingfield
Our little flower store in Lingfield is always full of flowers and plants, complemented with a range of carefully selected gifts and cards. From exclusive English handmade pottery from Jane Hogben, to luxury handmade St Eval candles, beautifully scented and handmade in Cornwall. We also stock a select range of locally-made greetings cards. Whatever the occasion, we always have something to suit you – just pop in and we'll help you choose!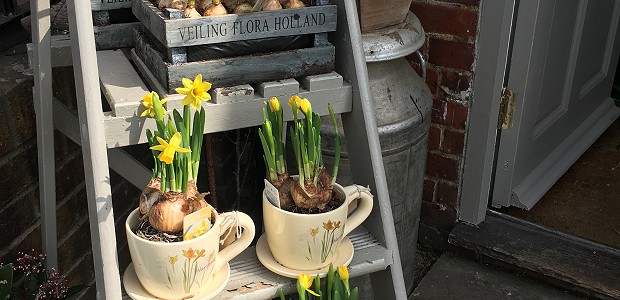 Jane Hogben Pottery​​
We are delighted that we are an official stockist for Jane Hogben Pottery, which is exclusive to this area. Each piece of this beautiful handmade English pottery is decorated with a hand crafted and hand painted country motif, such as popular dog breeds and birds, leaping hares and farm animals, flowers and strawberries. Choose from mugs and jugs, large and small, in a range of soft pastel tones of cream, eau-de-nil, pink, denim blue, grey and primrose. A perfect gift, or build your own collection of unique and individual handmade pieces.
Jane Hogben has been making decorative pottery since she left the Central School of Art and Design. All her work is handmade, so each piece is individual and unique. She employs a team of skilled crafts people who use traditional time-honoured methods.
Prices:
Small espresso mug £15.00
Large mug £19.50
Small jug £19.00
Medium jug £25.00
Large jug £30.00
St Eval Candle Company
Unique, beautifully fragranced, and inspired by nature, we are thrilled to stock a specially selected range of St Eval candles. Choose from hand poured candle tins scented with beautiful botanicals, such as Bay and Rosemary or Thyme and Mint, or choose the floral scent of Springflower or Pure Peony, or the fresh scent of Sea Salt or Grapefruit and Lime.
There are scents for every season and occasion, and with each scented candle tin having an impressive burn time of up to 45 hours, they make a beautiful gift (or treat for you!) that adds character to any room.
St Eval Candle Company is based on a traditional working farm on the rugged North Cornwall coast. Each product is handmade and hand wrapped with care.
The materials used are of the highest quality, with vegetable and mineral composite wax, cotton wicks for a longer more even burn, and a subtle blend of their own unique fragrances.
A perfect gift for any home.